Staff - Temple Shalom of the South Bay
Temple Executive Director

Amanda Chase
director@templeshalomsb.org

Amanda was born and raised in Northern New Jersey and lived in Manhattan for 10 years before moving to Los Angeles in 2016. Prior to joining TSSB, Amanda worked in independent school Admissions in both New York City and Los Angeles. She loves children and always wanted to be a teacher and hopes to visit the Religious School classrooms as much as she can.
Amanda lives in Marina del Rey with her wife, Emily. She is thrilled to be joining the TSSB community and looks forward to getting to know everyone!
Religious School Faculty

Ellen Eisenstat, 3rd/4th Grade
Ellen is enjoying her eighth year at TSSB teaching second grade and is always excited to see her students discover their Jewish-ness and learn Hebrew. Ellen worked for many years in TV production and writing before studying to be a Jewish educator. She has taught Hebrew school for nine years and also works at a foundation that brings Israeli doctors to the U.S. to do heart research. Her favorite people in the world are her husband, Jim, and her son, Joseph.

Barbara Mitnick, 2nd/3rd Grade
As a child, Barbara attended Yeshiva Rabbi Moses Soloveichik and spoke Hebrew fluently. After a fifteen-year career in public relations in New York, Barbara moved to Marina Del Rey in 2000 to become a certified Montessori teacher. She taught at a Montessori school in Manhattan Beach. Barbara discovered TSSB the first year it opened and has been teaching here ever since, including the K-1 class, third grade, fifth grade, and tutoring for B'nai Mitzvah.

Miriam Kaufman, 2nd/4th Grade
Miriam loves teaching 2nd and 4th grade and is grateful to be a part of the Temple Shalom family. She has been teaching for way longer than she'd like to admit. She loves to swim, dance (Israeli and Nia, which she teaches), chant Torah and enjoys entertaining and baking.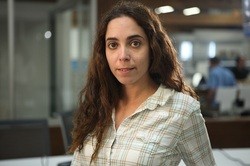 Ye'ela Rosenfeld, Youth Group Teacher and B'nai Mitzvah Program Director
Ye'ela is a native Israeli who has been living in Los Angeles for the past 5 years. She has a Master degree in Film Directing from The American Film Institute in Hollywood and is currently writing and directing films and theatre plays. A couple of years ago Ye'ela discovered Jewish education and was thrilled to find out that she can apply her knowledge and experience to develop fun and exciting ways of teaching and learning Hebrew and Judaica. Ye'ela is excited to be able to take part in preparing the students of TSSB for their B'nai Mitzvah. She hopes to inspire, excite, and educate the B'nai Mitvah and teens to continue developing their Jewish identity and their future role and involvement with their Jewish community.

Renee Lantz, 1st Grade
Renee graduated from The University of Arizona in 2008 with her teaching credential and a degree in Elementary Education. She then went on to get a masters degree in Education at Pepperdine University. For 8 years she taught Kindergarten at Village School in the Pacific Palisades. After having her daughter Brooklyn in April of 2016, she decided to stay home full-time. At her daughters baby naming she connected with Rabbi August about the opportunity to teach and was excited to get back in the classroom. Currently Renee and her family live in Redondo beach and look forward to being a part of the Temple Shalom community.
Lynn Hayward, TK/K
Gabriella Nejman, 5th/6th Grade
Mon, July 16 2018
4 Av 5778
CLICK HERE TO PURCHASE HIGH HOLIDAY TICKETS
Upcoming Events-Save the Dates!
Saturday, July 28th:
Havdalah in the Park!
Friday, August 24th: Shabbat on the Beach
Mon, July 16 2018 4 Av 5778
Temple Shalom • 1818 Monterey Blvd. • Hermosa Beach, CA 90254 • 310-613-3855