Temple Executive Director
Amanda Chase
Amanda was born and raised in Northern New Jersey and lived in Manhattan for 10 years before moving to Los Angeles in 2016. Prior to joining TSSB, Amanda worked in independent school Admissions in both New York City and Los Angeles. She loves children and always wanted to be a teacher and hopes to visit the Religious School classrooms as much as she can.
Amanda lives in Marina del Rey with her wife, Emily and her son, Rowan. She is thrilled to be part of the TSSB community.
Religious School Faculty
Ellen Eisenstat, 3rd/4th Grade
Ellen is enjoying her eighth year at TSSB and is always excited to see her students discover their Jewish-ness and learn Hebrew. Ellen worked for many years in TV production and writing before studying to be a Jewish educator. She has taught Hebrew school for nine years and also works at a foundation that brings Israeli doctors to the U.S. to do heart research. Her favorite people in the world are her husband, Jim, and her son, Joseph.
Barbara Mitnick
As a child, Barbara attended Yeshiva Rabbi Moses Soloveichik and spoke Hebrew fluently. After a fifteen-year career in public relations in New York, Barbara moved to Marina Del Rey in 2000 to become a certified Montessori teacher. She taught at a Montessori school in Manhattan Beach. Barbara discovered TSSB the first year it opened and has been teaching here ever since, including the K-1 class, third grade, fifth grade, and tutoring for B'nai Mitzvah.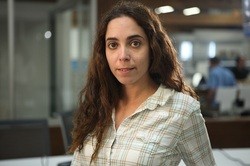 Ye'ela Rosenfeld, Youth Group Teacher and B'nai Mitzvah Program Director
Ye'ela is a native Israeli who has been living in Los Angeles for the past 5 years. She has a Master degree in Film Directing from The American Film Institute in Hollywood and is currently writing and directing films and theatre plays. A couple of years ago Ye'ela discovered Jewish education and was thrilled to find out that she can apply her knowledge and experience to develop fun and exciting ways of teaching and learning Hebrew and Judaica. Ye'ela is excited to be able to take part in preparing the students of TSSB for their B'nai Mitzvah. She hopes to inspire, excite, and educate the B'nai Mitvah and teens to continue developing their Jewish identity and their future role and involvement with their Jewish community.
Sandi Patt, 2nd Grade
became deeply interested in Judaica while attending the University of Judaism for her two-year conversion program in 1973. As a member of Temple Beth Hillel, she joined the Sisterhood, expanding her understanding of Jewish traditions and community. Sandra ran her own graphics business for many years before her son Andrew was born, giving her the joyous opportunity of being a full-time mom while continuing

graphics work. As Andrew grew older she became interested in childhood behavior and began studying child development. She spent 10 years working with children on the autistic spectrum. She is currently working in the non-profit sector working for Save A Heart Foundation that raises funds to bring Israeli doctors to the U.S. to conduct heart research. Spending time working with children gives her great joy. Her favorite person is her son, Andrew. Life just keeps getting better.
Lauren Wagner, 6th Grade
Marissa Deutsch, 4th / 5th Grade
Marissa was born and raised in the Redondo Beach area, and returned to the South Bay after spending five years studying and working in Washington, DC. Over the years, Marissa has worked for Jewish organizations in a variety of positions, including as a Camp Director, Technology Coordinator, and Preschool Aid. Marissa has also taught religious school at various grades for three years now, and is looking forward to joining the TSSB community as the fifth grade teacher!
Miriam Nash, TK/K
Olivia Echegaray, 1st Grade
Sat, July 11 2020 19 Tammuz 5780